INSPIRATION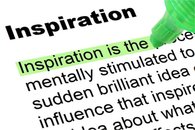 I thought of many titles for this page: introspection, musings, reflections. However, given the concentration on "a-tions" herein, inspiration sums it up.

So, I hope you will indulge me as I look at vibration & sensation, inspiration & complication, preparation & consideration, cultivation & habitation, frustration & duration, and definitely imagination & creation… a float-full of 'ations' that will give you insight into you who I am as a playwright…so laissez les bons temps rouler.

Vibration & Sensation – At the Kennedy Center Summer Playwriting Intensive I had an 'a-ha!' moment when Playwright Marsha Norman spoke about a playwright knowing "her stuff" – meaning that which she writes about. Ms. Norman said she writes about people who are trapped. A few days before, a fellow playwright friend had said to me (I'm paraphrasing but you'll get the idea) "You're not writing another one of 'those' plays, are you?" Actually I was, but I began second-guessing my muse, until Ms. Norman said to OWN IT! A-HA! My stuff vibrates my entire creative being and what a sensation that is! I love living with my stuff, researching it, creating it, being passionate about it. So, what's my stuff? That leads me to inspiration & complication.

Inspiration & Complication – I am a writer who feels the ying and yang, the good and bad of being torn between two places: that is "my stuff": protagonists whose lives are complicated by disparate worlds. While I write of many characters, living in many places, New Orleans has been a constant muse, with my stories circling out from her center like waves off a paddlewheel. I write the city, her people, her strengths and weaknesses, with feeling, love, desire and passion wrapped in the ever-present, ever-intoxicating scent of bourbon and magnolias, sometimes with a hint of decay and always with complications. Because I write drama and feel the light enhances the dark, my characters' choices are about good and evil, hope and loss, faith and doubt…and they usually involve a search for the meaning of home. Several years ago, I began creating a series of plays set in the past, complicated by lore, yet resonant with the present. To achieve this, and my other writings, I revel in preparation and consideration.

Preparation & Consideration – Research, research, research. Am I crazy to love research so much? I suppose it depends on who you ask. Few things excite me more than researching elements for a new play. Under the expansive ceiling of the Williams Research Center, which is part of the Historic New Orleans Collection, or in the history section of The Provincetown Library, I've spent many hours lost in fascinating details. I take time to consider the reality of what I find: those true people who were living, breathing beings of the past…and I am reverent of them as I create my characters and their stories…which brings me to cultivation and habitation.

Cultivation & Habitation – I had the pleasure of hearing Playwright Edward Albee speak at the New Orleans Tennessee Williams Literary Festival. He said he walked around for a long time with his characters in his head. They inhabited him and he cultivated them before taking pen to paper – yes, pen to paper as in long-hand. Sometimes with ease, sometimes for too long, most times not knowing at first where a character will want to go, my characters inhabit me and I cultivate them. And always, even in times of frustration, I hold on for the duration like those venerable old Mardi Gras Krewes.

Frustration & Duration – In his Notebooks, Tennessee Williams states "I believe that the way to write a good play is to convince yourself that it is easy to do - then go ahead and do it with ease. Don't maul, don't suffer, don't groan - till the first draft is finished. Then Calvary - but not till then. Doubt - and be lost - until the first draft is finished. A play is a Phoenix - it dies a thousand deaths." That, to me, is the epitome of frustration and duration – go in with ease, then let the intensity flourish, but never, ever give up!

Imagination & Creation – Creation does not exist without imagination! Period. Good line to end on, don't you think? Okay, maybe one or two more.

I end with a quote from Gail Goodwin that speaks to me as a playwright: "Her profession was words and she believed in them deeply. The articulation, interpretation, appreciation, and preservation of good words...Words could incite, soothe, destroy, exorcise, redeem." Finally, as a breast cancer survivor, I hold true to these words from Tennessee Williams in "Camino Real": Make voyages! Attempt them! There's nothing else!

To use a New Orleans expression: Yeah, you right!

---